Gee Tech Tubes manufactures Paper tubes for textile in various forms of finishing including bull nosing, notching and burnished in varying combinations of colours to meet customer specifications.
Textile Paper Tubes are manufactured from fully automated imported machinery and are available in custom sizes as per customers specifications.
Twisted Paper Tubes / Drawn Twisted Yarn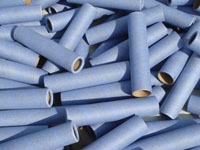 We offer a sturdy range of DTY (Drawn Twisted Yarn) / Twisting Paper Tubes. Our tubes are available in various diameters, thicknesses and lengths to suit the requirements of yarn manufacturers. These tubes are highly suitable for storing, advertising, mailing and display purpose. Manufactured from high quality raw material, these DTY paper tubes offer 270KGF crushing strength and 100% straightness. Our range is appreciated for high efficiency and cost effectiveness.
Standard Sizes

ID

Length

54mm

170mm

57mm

280mm

57mm

230mm

69mm

290mm
POY/ NFY/ FDY/ NTY Paper Tubes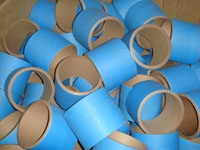 We offer a superior quality range of POY Paper Tubes, which are manufactured as per the requirements of yarn manufacturers. Our range is available in inner diameter ranging from 75mm to 125 mm. This range is highly appreciated by the clients for having 100% crushing straightness. These POY paper tubes are ideal for mailing, display, storage, and advertising purposes. We can customize our range on the basis of diameter, length and thickness.
Standard Sizes

ID

Length

75mm

150mm

75mm

260mm

94mm

153mm

110mm

115mm